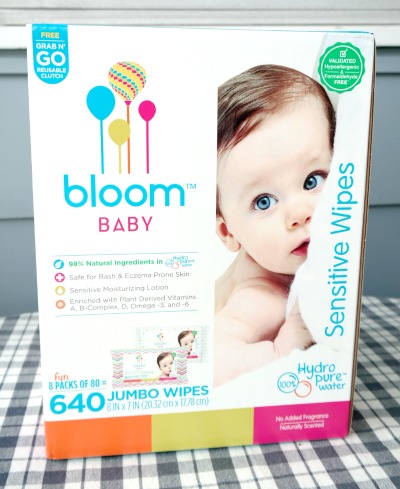 Babies have extremely sensitive skin; between weather, products and even touch, their skins are prone to rashes, acne and eczema. With the human skin being the body's largest organ, it's imperative we care for it and understand how outside factors affect it.
* Complimentary Product Received for Review.
bloom+KIND CO.'s pure and natural bloom BABY Sensitive Wipes are safe for all skin types. They're made from 100 percent HydroPure water sourced from a 6,000-year-old Canadian glacier, bloom BABY Sensitive Wipes are plant-enriched, biodegradable and non-abrasive toward baby skin. The wipes are gentle and protect skin as they contain 98 percent natural ingredients and are free from harmful ingredients.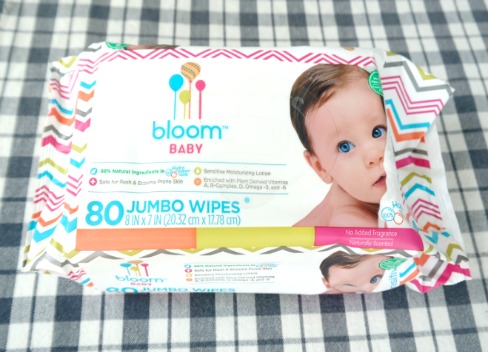 As a grandmother, bloom BABY Sensitive Wipes are my preferred brand when it comes to diaper wipes! They are made in the U.S.A. and come in a jumbo size! In most cases, they're bigger than your average wash cloth! The water used in the wipes is sourced from a 6,000-year-old Canadian Glacier that is purified until it is pharmaceutical-grade.
They're safe for use when your baby has a rash and you can use them on Eczema-prone skin. They are hypoallergenic and have been enriched with Plant-Derived Vitamins A, B-Complex, D, Omega-3, and -6. The most impressive thing? They're made with 98% natural ingredients and in 100% HydroPure™ water.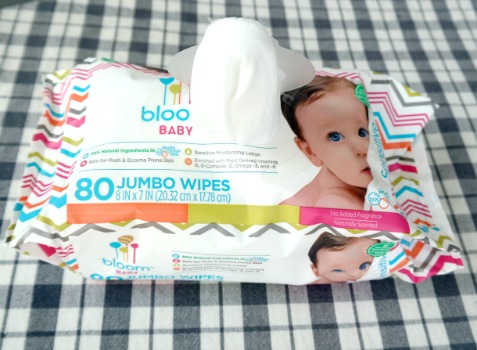 These wipes contain no added fragrances and are naturally scented. When I smell them, all I smell is fresh & clean. Heck, when I'm sweating and just need to refresh myself, I don't mind wiping down my arms with one of these fabulous wipes!
One of the things I love the most about them is their JUMBO size! Each one is approx. 7″ by 8″ in size. This means that it takes only one wipe when I'm changing a urine diaper and at-most two wipes if I'm changing a poo-poo diaper. Gone are the days of having to use 6-10 wipes every time I change a diaper.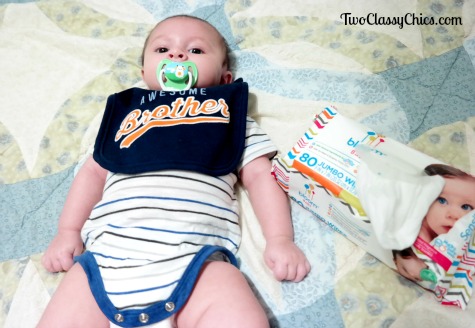 Next, I love, love and I mean LOVE the thickness of these wipes! With other brands I would put my fingers and/or fingernails right through their thin wipes…which means my hands would get messy. Thankfully, these wipes are a lot thicker and that isn't a problem anymore! Seriously, these are the BEST wipes that I've ever used!
* This post contains affiliate links. If you make a purchase, we may or may not receive a small commission which helps to support this site. Thank you!
Giveaway: One lucky winner is going to win a case of bloom BABY Sensitive Wipes! Your case will contain 8 packs of jumbo wipes.
Giveaway Details: This giveaway is open to residents of the US ONLY age 18 and over. Please read our Terms of Service & Disclaimer Policy before entering. This giveaway will close on August 16th, 2017 at 11:59 pm EST time. No purchase necessary to enter or win.

Disclaimer: Shelly received a complimentary product as featured in this blog post. No monetary compensation was received. Shelly's thoughts and words are 100% her own unbiased opinion on the company & products being featured today. The Two Classy Chics are not responsible for prize shipment or fulfillment.